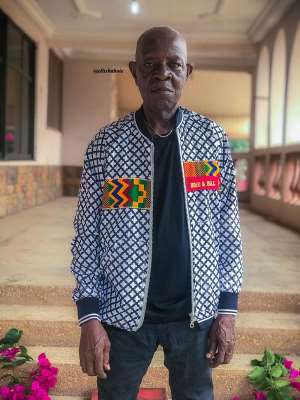 Ghanaian designers, Ellisha Boie and Chrife Calvin Bill of Fashion House BOiE&Bill started designing African print clothes with western appeal in 2014 not as a business though.
The two brothers only realised the potential of the business when Ghanaian musician, Emmanuel Owusu-Bonsu, known as Wanlov the Kubolor ordered a design from them.
The duo has since produced 'out of the usual' colourful fashion pieces since and have moved on to receive various fashion awards, featured in top media publications and organised a wedding exhibition in France.
This isn't really surprising as they come from a family line of fashion designers; their grandmother and mother were both fashion designers and their grandfather who is now 90 years old was a serious fashion enthusiast.
"Growing up we loved western clothings and fashion magazines which inspired us to fully launch our fashion label between 2015-2016," Ellisha Boie told Modernghana.com in an interview.
"Our clothing line includes jerseys, T-shirts, sweatshirts, Kaba and Slit among others. In 2016, we were nominate for Africa Youth Choice award in Nigeria, we won Brand of the Year 2017 at the Tertiary Fashion Awards," he added.
He is 90 years and probably the oldest model in the World?
Currently, the duo is working tirelessly to get their 90-year-old grandfather, Ntow Boadu into the Guinness Book of records as the oldest model in the World.
At 90, one would have thought life is almost ending for Mr Boadu but the opposite is true; life is just starting for him as he has been working for the brand as a photo model for two years.
News about his modelling career has gone viral on social media with lots people drawing inspiration from it.
He has 10 children, 32 grandchildren and 10 great grandchildren
What got him into modelling at this age?
"Our grandfather used to be active and fashionable. He loved fashion so much that he ended up going to church in pyjamas one day because he loved the pyjamas so much that it bothered him he couldn't take it to church," Boie said.
"In his old age, the fact that he cannot do anything again, sort of worried me so I had this idea that I will put him to use," he further said.
They discussed the idea with Mr Boadu and he accepted to model their cloths purposely designed for young people.
An arrangement was made and a photoshoot, held.
This move has been admired by family and friends far and near and has taken over social media.
Guinness book of record
Now the team wants him in Guinness Book of Records as the oldest model alive. An application has been sent to Guinness World Records and receipt has been acknowledged.
The question is, will the oldest living model come from Ghana?
Fingers crossed.